Saturday, December 2nd.....11th Annual Toy Drive & Birthday Breakfast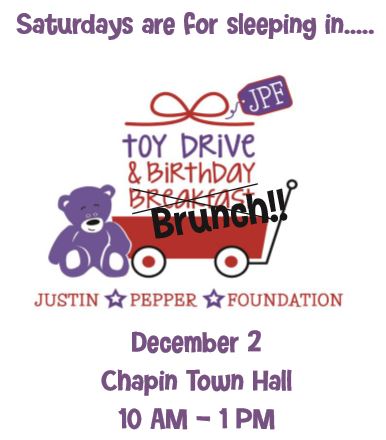 Because Justin's birthday (December 1) was so close to Christmas, he opted to give his birthday gifts to the Thornwell Children's Home for the last 5 years he was with us.  Birthday party invations were sent with a note that gifts were to be brought for boys or girls that would be donated to the home.  The first year he did this he traveled with his mom to the children's home to deliver the gifts in person.  Each year thereafter, he took these gifts to church on Christmas Eve and placed them under the Christmas tree at Lake Murray Presbyterian to be delivered to the home.  The gifts were collected on Christmas at Lake Murray Presbyterian to send to Thornwell after Christmas for the children's birthdays and other special events that occurred throughout the year.

To keep this tradition going, the foundation hosts a Birthday Breakfast and Toy Drive on the first Saturday of December each year.  A portion of the gifts are then delivered to Thornwell that afternoon by the youth of Lake Murray Presbyterian Church.  There they enjoy a fun filled day of activities, fellowship and lunch. The balance of the donations are then distributed to many other charitable organizations in the local community, both before Christmas and after the holidays to help with children's birthday celebrations and other special events within the calendar year.

Everyone is invited to come to the brunch and enjoy fellowship with the community.  There is no cost....... the only thing the foundation asks is that you bring a toy, gift card, or donation for the Toy Drive. 
---
Additional details pertaining to the toy and gift collection are available here. 
---
How the JPF Toy Drive got started.....